Make it good easily
You don't have to be a web designer to make your website look amazing
Our themes let you build pages by stacking pre-made sections that you can then customize and tweak. And they always look GREAT. Think
modular
Artisan themes let you build your WordPress site by creating, customizing and combining different kinds of sections. We call them modules.
We took the job of measuring each and every pixel of our designs so you can stop worrying about whether it's gonna look nice. It is gonna look awesome.
Build with
pre-made

modules

Instantly speed up your process by combining between 20+ types of modules, based on today's popular sites sections.

All this integrated on your every day WordPress dashboard. No new fancy rocket controls to learn. Just handle your modules like you'd handle a regular post. Add the content, select a layout and voilà.
Authors

Blog

Call to Action

Canvas

Featured Post

Flash News

Gallery

Image

Insights

Logos Roll

Magazine

Portfolio

Pricing Tables

Services

Slider

Slogan

Team

Testimonials

Tiled Display

Video Posts Slider
...and more!
Build
any kind

of site

We've invested years in learning the thin line between too-many-options-I-can't-handle-this and just the remarkable amount of settings that will feel like a magic wand in your pocket.

The combination of easy option panels and modular pages will make it amazingly easy for you to create an endless variety of professional websites, in no time.
"I truly can't say enough great about this theme. It is so easy to make changes, add features, and add new information to my website that even I, a total non-techie, had no trouble at all creating a sleek, professional, high impact site without knowing a darned thing about website design. In a matter of minutes I was slapping together modules. My site looks SO much more professional. I will be telling all my author buddies about you guys!"
Modules are sexy. Pages get unique. Your site turns awesome.
Start crafting with the tools you need
View Themes »
Live editing
Craft on the Front-End without leaving the page
Build your pages live while looking at them using our Artisan Front-End Editor. Now you can try your ideas without having to go back and forth from the WordPress admin area to the front end of your website.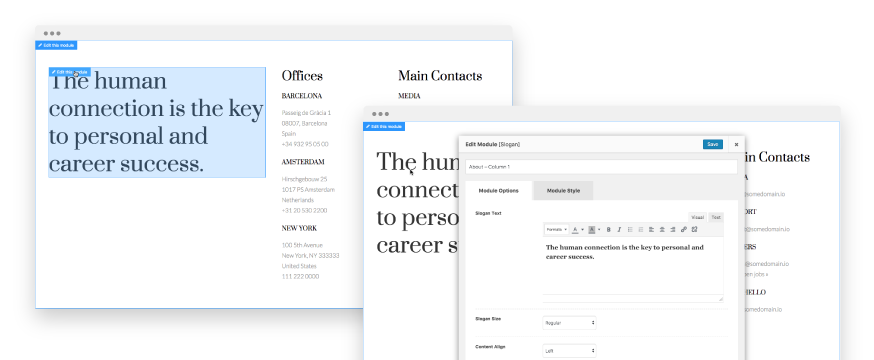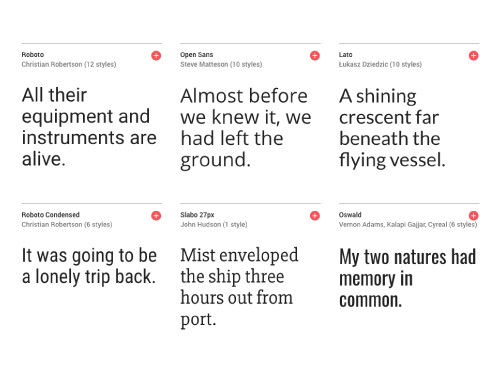 Make it yours
Typography and colors that match your brand
Select the fonts for your website from over 800+ Google Fonts font families to make your content look sharp. You can also use your Typekit kits without adding any extra code, and upload a custom font if you need to.
Make it profitable
Grow your email list
Use the included leadbox module to capture emails on any of your pages. It automatically connects to popular email providers so you can immediately start converting your website visitors into subscribers.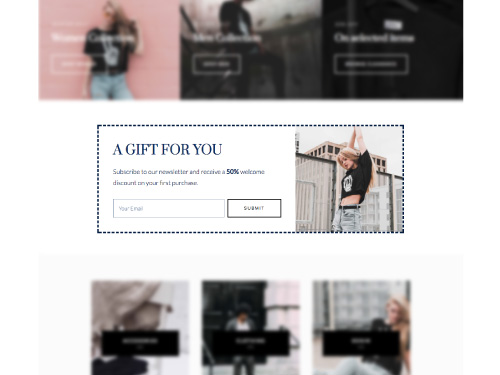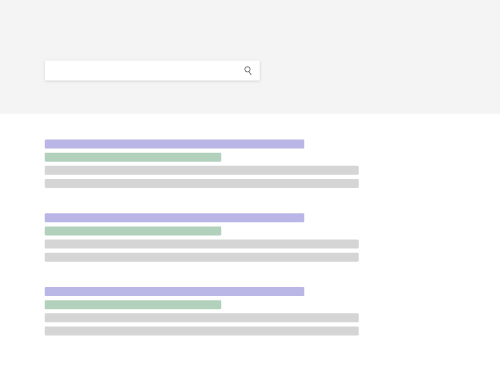 Make it search engine (AKA Google) friendly
Coded with SEO best practices
On-site SEO is mostly achieved by three things:
- Fast performance
- The right HTML structure for proper semantics
- Good quality content
We knew you were in charge of quality content, so we already took care of the first two in the themes. Sounds fine, right?
Start selling right away
WooCommerce ready
Not all themes will integrate with WooCommerce as if they were one same thing. Should you worry about that? No way.
Install the most popular e-commerce plugin for WordPress knowing the design side of your shop will be already taken care of for you. Neat looking carts on your website's header, proper image handling, and multiple ways of showcasing your products so you can sell more.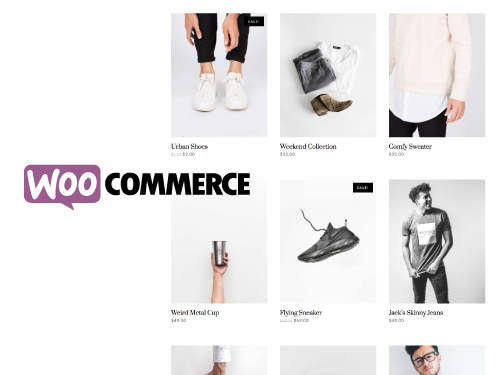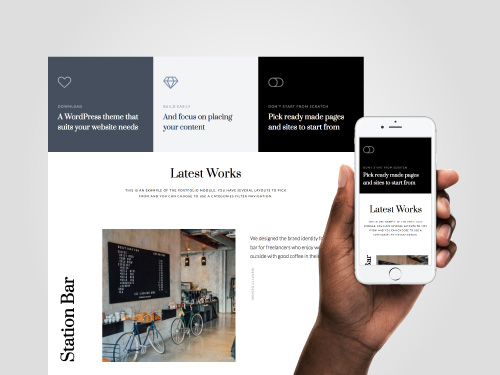 Responsive & Retina Ready
Beautiful on every device
Did you know that Mobile drives more than 55% of all traffic? Your website will look pixel perfect in all devices with no extra effort on your side. Create your content once, and watch it turn "mobile-optimized" automatically.
Get tons of advice
Support beyond
the theme
Our goal is to see you succeed with your new website. And we know how important it is to have someone around to ask for advice (like when you have to pick a hosting plan or deal with technical stuff, for instance). We're here for you.
Our users community hangs out in our support forums and our Slack workspace to be there for you when you find yourself needing some inspiration or website advice.
"The support is unbelievable. I've never experienced such a service. It feels like if I would have a private developer with me all the time."
Let us show you how easy it'd be to build your site with our themes.
or
Let us help you take your work to the next level.
Don't start from scratch
Create highly polished WordPress sites while
saving time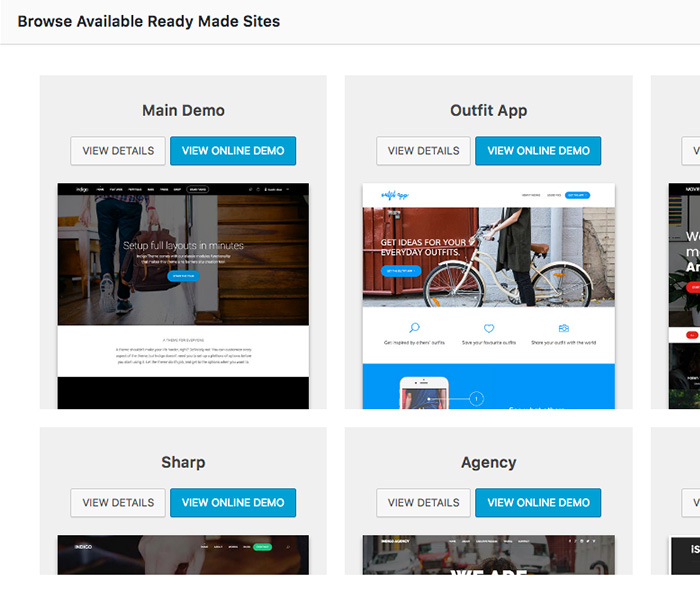 Ready Made Sites
What if the site you need to build was just one click away? Meet Artisan Themes' Ready Made Sites.
A collection of sites created to fulfill a specific purpose: an agency site, a blog, a shop. You name it.
Each one made with one of our handcrafted WordPress themes. Install the one you like rigth from your WordPress dashboard.
Browse Ready Made Sites »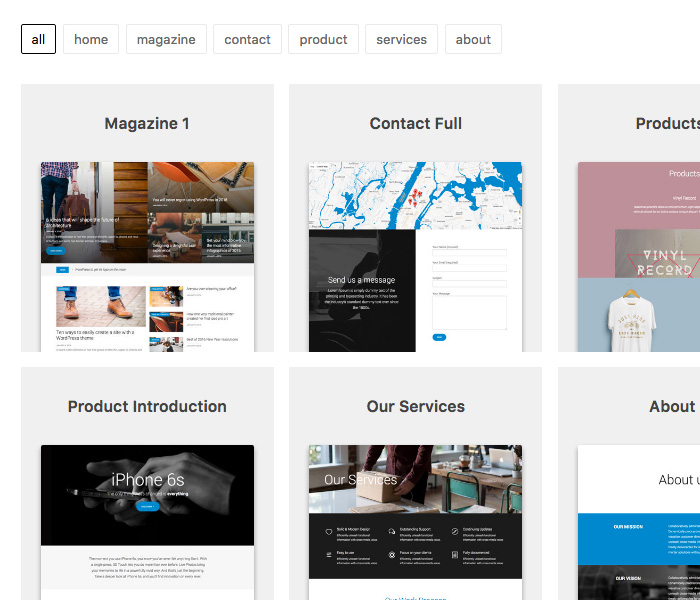 Artisan Pages
Building an About page on your site? Or maybe a Contact page? Or even your Homepage? And maybe you don't have a clue about how it should look? Or need inspiration? Or perhaps just a simple and quick solution?
Browse the Artisan Pages catalog and bring the one that suits you right into a new page in your dashboard.
Get the Artisan Pages plugin and a whole bunch of Ready Made Sites with every Artisan theme.
You'll never be alone
Behind Artisan Themes there're
people

you can actually talk to.
Premium
Support Forum

Have any question about any part of the theme? Looking for an extra twist? Reach us at out dedicated support forum. We'll be there for you.

Private
Slack Community

An exclusive place to hangout and share the everyday things. Full of awesome people like you.

Get an Invite »

Extensive
Knowledge Base

Including WordPress 101 Video Tutorials and how to articles: from installing and first steps to customizing the theme.
Artisans Stories
Themes for real people who work on real projects.
Like you.
Justin has an educational project on chemistry. He built his own site with Nayma WordPress theme, while caring for every little details and user experience. The goal: people who enter his site should find answers to their chemistry questions.
"I am so impressed not only with the quality of your work, but with your responsiveness and customer support. The theme is everything I've wanted and fits exactly what I want."
30 Day Money Back Guarantee
Risk Free Purchase
This is how much we want to help you.
We stand by our products and are so convinced this is the best fit for you that we're making this a completely "risk-less" deal. Enjoy our 30 Day Money Back Guarantee. No questions asked, you ask? That's correct. No questions asked.