Guides
WordPress
If you're starting to build your website with WordPress you'll eventually reach that phase when you ask yourself (actually, you cry at loud to your computer) "How on earth could I know which theme is right for my website?".
We've all been there.
Fortunately, you can stop screaming at your computer. This post will guide you on how to choose the perfect theme for your website.
Let's start from the beginning.
What's a WordPress theme?
Appearance + Functionalities
In essence, a theme is the shell of your WordPress website. It will supply your website with a specific appearance and structure. Giving shape to your posts, pages, archive pages, header, footer and all the parts of your site.
When designed with expertise, it'll provide your website with a unique aspect, unifying the overall look.
That's in principle. But since many years ago, thanks to the growth of both theme developers and the WordPress users community, themes have become more complex.
This complexity is mainly seen in two important aspects:
→ They started to not only provide appearance but to include new functionality too.
Such as ways of structuring your content, new post types (like Portfolio posts), custom page and post templates, new widgets. And sometimes even little features that you would usually add to WordPress by installing a plugin.
→ They started to offer a brand new level of customizability that turned themes into flexible toolboxes.
Meaning your site can take all kind of forms while using the same theme.
This type of theme will allow you to adjust the appearance of your site by configuring the theme's settings. From colors and typography to header and footer layouts. These are usually called "multipurpose" or "flexible" WordPress themes.
Of course, these two points aren't necessarily relevant for all the themes out there. There are still themes that offer one solid appearance and that don't add any functionality to WordPress. And that's super fine.
You just need to know what you're looking for and what kind of theme will serve your goals the most, while making it comfortable for you to build your website using it.
From a technical aspect
Technically, a WordPress theme is a collection of template files that work together to create a unique graphic interface for your site. The theme will run over your WordPress installation and modify the way your site looks on the front.
To change the theme you're using or install a new one, go to Appearance » Themes. There you'll be able to preview inactive themes, upload new ones and activate the one you like.
Once you activate a theme, it will instantaneously be applied to your website, making your site and content look different right away.
Where to find WordPress themes?
There are thousands of WordPress themes out there. For all kinds of purposes, with all kind of designs and functionalities.
Mainly, there are 3 ways to get a WordPress theme:
get one for free from the WordPress official repository,
buy a premium theme from a theme shop,
or have a developer build a custom theme for you.
There also free themes that you won't find in the WordPress official repository, that totally worth checking them out. Pepper is one of them, created with love by us :).
Free themes from the WordPress.org directory
The WordPress.org repository is a huge collection of WordPress themes you can install for free on your website.
Made by different authors around the world, you'll find all kinds of themes with all kinds of complexity levels.
You can browse the collection by entering WordPress.org site, and you can also browse the themes directly on your WordPress dashboard by navigating to Appearance » Themes » Add New.
You'll see a catalog of themes you can filter by different features and sort by featured, popular or date created.
If you see one you like, click "Install" and then "Activate". That's it, you're using that theme.
You can install as many themes as you like to try them out, there's no harm in that. Just remember to remove those you won't use afterward, so you keep your WordPress install cleaner.
Premium themes
Premium themes are widely used over the web. Users who can invest a small sum of money tend to go with a premium theme as they usually offer a deeper level of customizability and, most of the times, more professional looking sites as a result.
Premium theme developers will generally offer support as part of the license purchase. And that's crucial when it comes to building your website. You'll see why at the end of this post.
There are many theme shops with many different prices. And no matter the price, you'll find it very worthy (when the theme is good, that is). You'll have a super professional site that you can build by yourself without paying for long developer hours to custom develop it for you.
And it's not only the money you save on developer work but also how many hours you speed up the process by having such a product already made for you.
(We believe in making our themes beautiful on the outside and insanely easy to use on the inside. So you can build a solid gorgeous website in no time while enjoying the process. Check out our premium themes here.)
How to choose a theme that fits you?
Finding the right one might be an overwhelming task. Even more when there are so many to choose from.
So before you dig yourself into an endless search under the theme-sea, and right before you spend precious hours looking for your dream theme… Here is a guideline on how to face the search so it turns out more useful and you can finally find the right fit for your site.
There are two questions you need to ask yourself:
* A clue: these questions respond to the two things we've learned themes do: appearance + functionality.
1. Do I need a theme with specific functionalities?
Here's where it all begins. You can't look for a theme and only then find out how you want your website to be in terms of functionality and structure.
You first need to plan your website, to have a clear image of which goal it is going to serve and which particular functions you need it to fulfill.
Ask yourself if you need a theme for a specific purpose (like Real Estate, online shops, etc.) or wether a generic theme will do the job. And which functionalities it will need to satisfy.
By doing that you'll detect specific functional needs. Write them down and keep that list close to you when searching for a theme. Then you'll be able to evaluate the candidates through that list of requirements.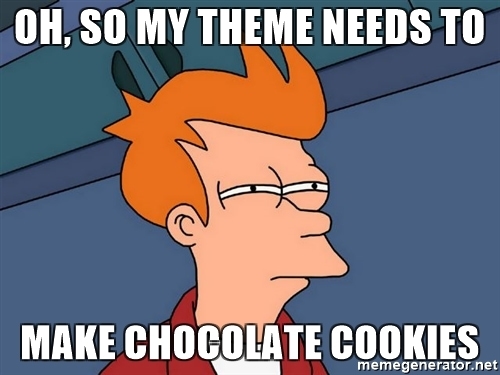 2. Do I need a theme with a particular appearance or a rather a flexible one?
The second question is about the theme's graphic appearance. Will your site have a specific look? Is there a theme with that look? Can you get that look with a flexible theme that lets you customize colors, layouts, and typography?
The 3 candidates method
After you finish the search, I recommend you stay with three potential candidates. Those three should satisfy both your functionality and appearance needs (the two questions you asked yourself before).
Now you need to discard two and choose the one that will dress up your website.
And for that, you will pass the candidates through this checklist.
The checklist will assure you your theme is in general a good choice, in addition to serve your appearance and functionality needs.
---
A theme checklist
---
✓ Responsive
With such a big portion of web traffic being mobile there's no way your website won't be responsive. That's why a good WordPress theme should be prepared to adjust itself to multiple mobile devices.
That way you make sure your users will be able to enjoy your site, buy your products and read your articles from every device they'll connect from.
✓ Browser compatibility
Users access websites from all kinds of browsers and operating systems. Be sure the theme you choose, and therefore your site, works fine in common browsers.
It should support Chrome, Firefox, Safari, Edge and at least IE 10>. It is less common for previous versions of IE to be supported these days, but if you know your audience still uses a dated version of IE (on some 1995 exhausted computer), you should check if the theme supports it too.
✓ Plugins compatibility
If you know your site will be using a specific plugin, you can check if the theme behaves nicely with it.
There shouldn't be a reason for any theme to crash with a certain plugin, but there are all kinds of plugins+themes integrations and it's definitely worth checking it out.
A common example is a compatibility with WooCommerce, the most used plugin to build an online shop in WordPress.
WooCommerce doesn't need an integration with the theme in order to work, but a theme that supports it and integrates it will dress up not only your posts and pages but your shop too. Meaning your products and shop pages will adopt the look and feel of your site. The theme could also add some shop functionalities such as having a shopping cart in your header, which comes very handy.
✓ Performance
Pretty self-explanatory, but so important. There's an average amount of time any visitor will wait till a web page is loaded.
Think that number is low? Think again. It's probably lower.
Studies show most people will abandon a site that takes more than 3 seconds to load. That puts your website in a literal rush. Your site HAS to load fast.
This is absolutely not entirely the theme's responsibility. Your hosting company plays a huge role too, and also does the size of the images you'll upload to your site. But a theme can help a lot or do lots of damage in this area.
If the theme has a live preview pay close attention to how fast the pages load and how the overall experience feels while browsing it. A smooth experience will probably mean you'll be able to replicate that same smoothness with the proper efforts.
✓ Translation ready
Will you need to translate your theme into a language different than the theme's original one?
I'm not talking about your site's content now but about the text strings that will appear on your site defined by the theme. Like "Read more" buttons or the word "Posted on" before the post date.
If the theme is ready to be translated you should be able to install a plugin like Loco Translate and translate those strings from your WordPress dashboard instead of having to modify the theme's code (which you don't wanna do).
So if you're going to use the theme in another language, make sure your theme is translation ready.
✓ Overall quality
When you buy a theme you'll want it to match some quality criteria.
In terms of design, you can take a look at the theme's preview or demo and see if everything looks: clean, consistent, unified, clear, with right hierarchy, with a solid UI, with good proportions and use of white space. You can check how easy is to read text on the pages or how intuitive is to understand the role of each element on it.
In terms of code quality, it can be more difficult to test. But let's say a well built WordPress theme should follow WordPress best code practices.
How can you check it out? You can see if the theme's authors are involved in the WordPress community, if they have a blog where they talk about WordPress practices, if there are people recommending their themes.
✓ Support and updates
Maybe one of the most important aspects to take into consideration.
When you buy a piece of software you'll probably need to:
Learn how to use it and ask for help when you don't know how to do something
Ask for help when you've done something with unwanted results
Ask for advice on how to take the most out of it
Sometimes report a bug or a compatibility issue
And sometimes just to have a partner on the other side to walk with you through the process of building your website
As a response to all that comes the support.
You can have a really cool product in your hands, a theme that can do everything you want… but if there isn't someone on the other side to talk to when you need it, if you feel alone, then there aren't enough cool features that can beat a solid support service.
I can't tell you enough how important that is. Make sure your theme has a great team or developer behind.
In addition to support, you should check if the theme gets updated regularly. Like any other software, themes need to be updated in order to keep a modern code, reduce bugs, and maintain compatibility with the WordPress environment.
Themes developers may also add new features and release updates for you to enjoy them.
Take a look at when was the last time the theme you've chosen was updated (or ask if you don't see it posted). If it was within the last months, you should be good to go with it.
Keep in mind themes have different license plans that enable support and updates for a specific period of time. Usually, theme developers will offer one year of support and updates with one license purchase. But you should definitely check that out with your theme provider.
---
Are you looking at one of our themes and have a question you want to ask us? Leave it here in the comments.
And remember, if you're not yet ready to commit to a premium WordPress theme, you can always start with a free quality theme and see where your relationship goes :). Download Pepper WordPress theme for free here.