How to enable automatic updates?
Important:
Updating the theme will override the old files and replace them with the new ones. So, before you update the theme: if you've made any modification to the theme itself (to the files), remember to do that on a child theme so you won't loose any changes when updating the theme.
(You won't loose any of your content and settings by updating the theme).
---
STEP 1

(only for Themeforest purchases):

If you purchased your theme from Themeforest, the first thing you will need to enable automatic updates is to have your theme registered on your artisanthemes.io user profile. It's a fairly easy task and it won't take you more than a couple of minutes.

You will find the option to register a theme by navigating to your Dashboard on this site and then to "Register Themeforest Theme" (you'll need to log in first).
STEP 2:
Once you got that done (or if you didn't purchase your theme through Themeforest), just fill in your Artisan Themes Username, Password and License ID in the Theme Updates & License section of your theme by navigating to Theme Options » General tab, and check the "Enable Updates" options.
Please note that this License ID is not your Themeforest purchase key, but the one you'll get when you register the theme here.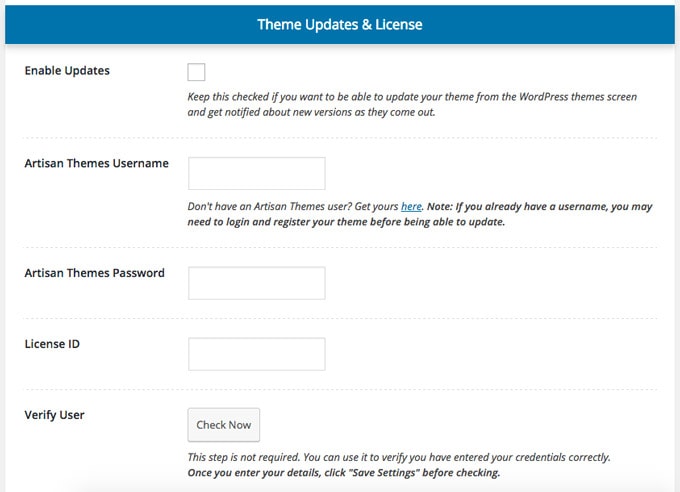 That's it! From now on, you will see any available version of the theme next to your other available plugin updates. So, go ahead and keep your Artisan theme up to date!